Keep your airspace dronesafe
Drones (sUAS) pose a new dimension threat. High walls and fences worked very well in the past but with the introduction of low-cost commercial off the shelf drones (COTS) this changed quickly.
At this moment in time COTS sUAS are changing modern day warfare in Ukraine. Drones are being used by both sides deploying explosive payloads and for ISTAR activities.
Based on our experience in researching s-UAS threat incidents since 2013 and talking to military and law enforcement end-users in the field we have built our C-UAS Force Protection strategy on five basic steps. (CONOPS-Concept Of Operations) 
After your first initial contact with our team we will start with a series of questions. We want to really understand your "UAS problem". This helps us to tailor the best set of solutions for your problem.
Tailoring C-UAS solutions on Where, When, What and Why.
Where is the location that has to be protected? Is it an urban city environment, rural, desert. Europe, the US, the Middle East? Is the site that has to be protected a Military Forward Operating Base (FOB) in Afghanistan, an embassy compound in Iraq in the Green Zone?
An airfield like Dubai International Airport(DXB), London Gatwick Airport(LGW)or an event, the inauguration of a new president, a military parade, music concert or sports event require a different set of tailored security measures.
When is the threat to the protected asset? Is this during an event, during daytime or during the cover of night(smuggling into prisons for example).
Flying drones at night requires additional skills from the pilot and infrared or low light camera's on the drone to navigate.
What kind of drones are the biggest threat? Are these Commercial Of The Shelf(COTS) quadcopters, professional drone platforms(octocopters) or fixed wing platforms? Each category has different specs.
Why is the pilot trespassing? What is the intention or goal from the drone pilot? Disturbing public events, smuggling drugs, dropping explosive payloads or just an unware hobby pilot just trespassing?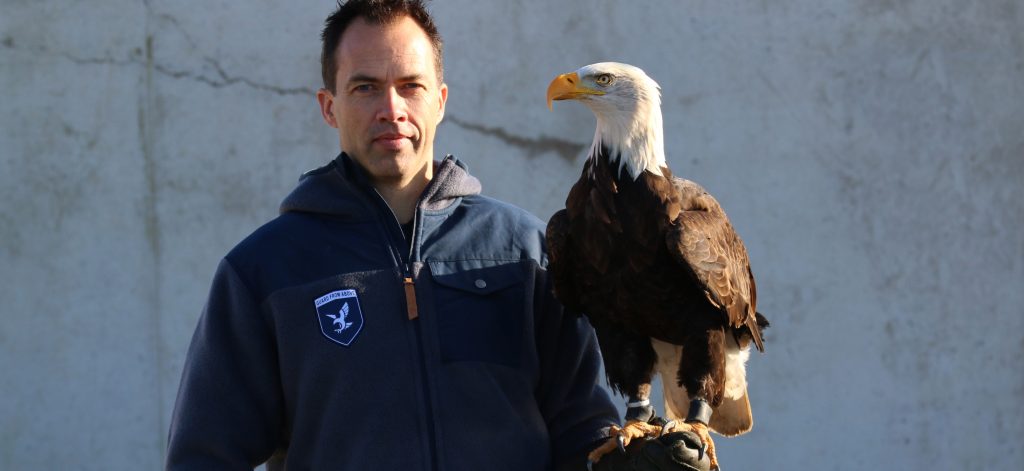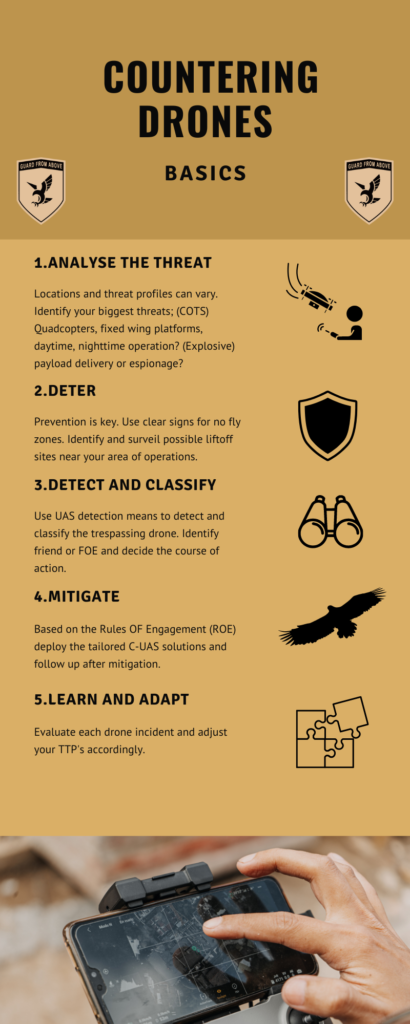 Way of working - Reach out to us​
After our preliminary threat analysis, we will help you to select the best suitable C-UAS solutions. When that solution is using C-UAS Birds of Prey, we carry out a site survey, during which our specialized team will check the location on access points, obstacles and best positions to deploy the birds. In most cases this will be a static position on the high ground, guard tower or on the roof of a building.
We will assist you in all steps needed to build you own C-UAS Capability tailored to your needs. Included Birdquarters, trainingprocedures, feeding and caretaking.
When deployed at a location, a GFA certified Team (bird handler and bird of prey) will report to the Force Protection Unit or Protective Services Detail (PSD), which can also deploy additional C-UAS tools (e.g. additional means of Drone Detection or Electronic Counter Measures). Rules Of Engagement (ROE) and follow-up procedures after interception of a hostile drone are set, after which the team is ready.
We can provide in-depth intelligence reports tailored to your site and on request also provide red-teaming exercises. Because of our network of partners around the world we can also provide additional C-UAS solutions and or incorporate these in Hybrid solutions. This includes providing C-UAS Operators through our partners.
 At this moment in time Guard From Above provides Bird training and Birdhandler Training for Military and law enforcement units around the world.